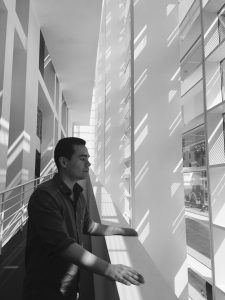 I am a Peruvian-Canadian composer based in Toronto.
Much of my recent work has been focused on two streams of research. In the first, I focus on the flexibility and peculiarities surrounding language. I explore language through the use of text set to music, text to create and shape structure and systems, and an exploration of the perceptibility of different levels of sound and language. I am interested in addressing social and political issues rising from the use of different languages, slang, and perceived hierarchical relationships between forms of text.
In the second, I explore aspects of distance and depth in sound. Through the use of traditional Western musical techniques, I explore how material is viewed from different levels and perspectives, and the ways in which the listener can be offered many-directed perspectives of sound.
Ultimately, I am attempting to reconcile epistemological boundaries with musical and artistic practicality by addressing limits rising from my use of language, systems, and improvisation from a musical point of view. These considerations are evaluated and tested through my collaboration with other artists and performers. It is through these collaborations that I am able to integrate ideas, texts, processes, and other conceptual and structural elements in my music.
I am the Artistic Director of Freesound, an ensemble based in Toronto, and the Managing Director of Xenia Concerts Inc. which presents classical concerts to those affected by autism.
I have studied at the University of Toronto (Canada), the Royal Conservatoire of the Hague (The Netherlands), and the Sibelius Academy (Finland).