Warning: preg_match(): Compilation failed: unrecognized character after (?< at offset 10 in /var/www/vhosts/paologriffin.com/httpdocs/wp-includes/class-wp-block-parser.php on line 418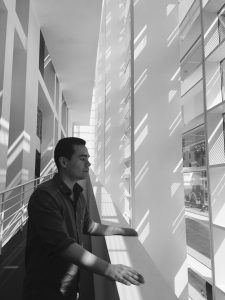 Paolo Griffin is a Peruvian-Canadian composer based in Toronto, Canada.
His music has been featured in concerts and on the radio across Canada, Western Europe, and the United States by a diverse range of performers and ensembles including the Residentie Orkest, The New European Ensemble. He is the artistic director and conductor of the Freesound Series, a concert series which focuses on contemporary repertoire for large chamber ensembles.
His music explores the layers and boundaries of perceivable structure and form, both artificial and natural from the vantage points of performance art, electronic, experimental, and concert music. A versatile and innovative composer, he uses numbers, tuning systems, symmetry, text, and language in order to create pieces that are flexible and variable, often with strikingly different outcomes for each performance.
Paolo has studied at the University of Toronto (Canada), The Royal Conservatoire of The Hague (The Netherlands), and the Sibelius Academy (Finland).