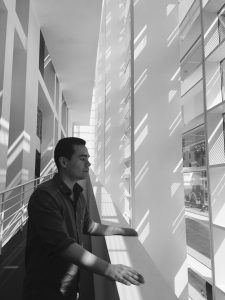 I (he/him) am a Peruvian-Canadian composer living and working in Toronto (Tkaronto), the traditional territory of many nations including the Mississaugas of the Credit, the Anishinaabe, the Chippewa, the Haudenosaunee and the Huron-Wendat peoples, and covered by Treaty 13 signed with the Mississaugas of the Credit, and the Williams Treaty signed with multiple Mississaugas and Chippewa bands.
Much of my recent work has been focused on the creation of music that deals with notions of focus and unfocussed listening, microtonality, and non-traditional scoring. Pieces such as Within a Space (2020), explore how varyingly dense and seemingly unfocussed lines of sound can be used to draw the attention of listeners to single or multiple aspects of a sound world. My expanding series of works for two violins (under the title Acts of Intimacy) more directly explore my microtonal work. I also spend a significant portion of my free time exploring text and alternative scoring as a means of performative expression – examples of such works being Quatre Vignettes de Surrealité (2018), and my growing body of text scores.
I am the Artistic Director and conductor of Freesound, a concert series/ensemble in Toronto that comprises of a group of energetic performers. We present concerts of contemporary, experimental music with a focus on emerging and Canadian composers.
I am also the Managing Director of Xenia Concerts, a charity that presents accessible concerts for individuals and families affected by physical and neurodevelopmental disabilities, or who might not have access to such events and activities due to other mental, physical, or financial barriers.
My music has been featured in concerts and on the radio across Canada, Europe, and the United States by a diverse range of performers and ensembles including the Residentie Orkest, The New European Ensemble, Avanti! Chamber Orchestra, and more.
I hold degrees from the University of Toronto and the Royal Conservatoire of the Hague. I have studied at the University of Toronto (Canada) with Gary Kulesha, The Royal Conservatoire of The Hague (The Netherlands) with Peter Adriaansz and Mayke Nas, and the Sibelius Academy (Finland) with Juhani Nuorvala and Matthew Whittall. Other teachers have included Chaya Czernowin, Martijn Padding, Jukka Tiensuu, Nobert Palej, Huba de Graaff, Jan van de Putte, Ana Sokolovic, Hans Abrahamsen, Peter Ablinger, Christopher Theofanidis, Dmitri Tomozco, Amy Beth Kirsten, and Chen Yi.