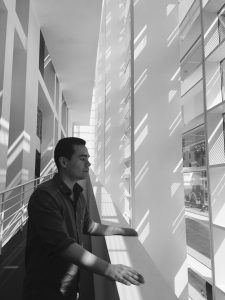 Paolo Griffin is a composer based in Tkarón:to/Toronto whose music explores notions of focused/unfocussed listening, repetition, and generative composition while maintaining a focus on close collaboration and creative spontaneity with the performers he works with.
2022-23 engagements include lectures at the Sibelius Academy in Finland, and the Tuckamore Chamber Music Festival's Widening the Circle initiative where he appeared as a mentor composer. Other events include premieres with the Continuum Ensemble, with saxophonist David Zucchi in Toronto, and at the Aurore Renaissance Music Festival in Helsinki. Paolo's music has been featured in at festivals across Canada, including Ottawa Chamberfest, Toronto Summer Music, and Big Lake Arts Festival. His music can be heard in concert and on the radio by performers and ensembles such as Continuum Ensemble (CA), Residentie Orkest (NL), The New European Ensemble (NL), Avanti! Chamber Music (FI), Thin Edge New Music Collective (CA), Duo Holz (CA), Freesound (CA), and more.
A fierce advocate of accessible arts and inclusive practices, Paolo is the Managing Director of Xenia Concerts, a Toronto-based charity that focuses on presenting sensory-friendly, accessible concerts and musical events for autism and neurodiverse communities. Through his work with Xenia, Paolo has helped to shape such programs as Sound.colLab – a collaborative project in which seven neurodivergent artists have co-created an original piece of music under the mentorship of professional musicians. This year, Paolo departs on a Toronto Arts Council-funded project with students from Toronto Metropolitan University to reach out to neurodiverse individuals embedded in racialized communities across the Greater-Toronto-Area.
Paolo is also the Artistic and Executive Director of Freesound, a Toronto-based performer's collective that consists of a core group of the city's most adventurous young musicians and interpreters of contemporary music. Freesound present concerts throughout the year with an interest in emerging composers from Canada and abroad.
Paolo holds degrees from the University of Toronto and the Royal Conservatoire of the Hague where he studied with Peter Adriaansz and Martijn Padding. Other teachers have included Linda Catlin Smith, Anthony Tan, Juhani Nuorvala, Chaya Czernowin, Mayke Nas, Matthew Whittall, Jukka Tiensuu, Rodney Sharman, Gary Kulesha, Nobert Palej, Huba de Graaff, Jan van de Putte, Ana Sokolovic, Peter Ablinger, Christopher Theofanidis, Mario Garuti, Dmitri Tomozco, Amy Beth Kirsten, and Chen Yi.
Paolo's sits on the board of Musicworks Magainze. His work and research is supported by the Canada Council for the Arts, the Ontario Arts Council, as well as the Canadian New Music Network.