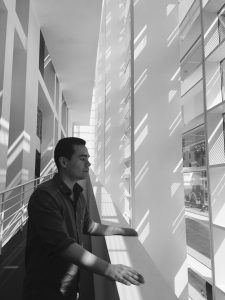 I am a Peruvian-Canadian composer based in Canada.
My work focuses on the creation of concert and experimental music. My work explores simple processes where situations, settings, systems, and other parameters are explored. These processes are most often defined through notation systems, text-scores, and notational hybrids. The systems and processes I use are often flexible, concerning themselves with elements of language, movement, tuning, performer interaction, and improvisation.
Through my work, I attempt to reconcile epistemological boundaries with musical and artistic practicality by addressing limits rising from my use of language, systems, and improvisation from a musical point of view. These considerations are evaluated and tested through my collaboration with other artists and performers. It is through these collaborations that I am able to integrate ideas, texts, processes, and other conceptual and structural elements in my music.
More recently, my work has focused more closely on the flexibility and peculiarities surrounding language. Through the use of text set to music, text to create and shape structure and systems, and an exploration of the perceptibility of different levels of sound and language, and text to give instructions to performers, I have worked to create systems for encoding language and text into sound. I am interested in combining my work with language with texts and recordings from minority and under-represented voices within our communities. Through this work with language, I address social and political issues rising from the use of different languages, slang, and perceived hierarchical relationships between forms of text.
My music has been featured in concerts and on the radio across Canada, Western Europe, and the United States by a diverse range of performers and ensembles including the Residentie Orkest, The New European Ensemble. I am also the artistic director and conductor of the Freesound Series, a concert series which focuses on contemporary repertoire for mixed and large chamber ensembles.
I have studied at the University of Toronto (Canada), The Royal Conservatoire of The Hague (The Netherlands), and the Sibelius Academy (Finland). I am currently based in Toronto, Canada.