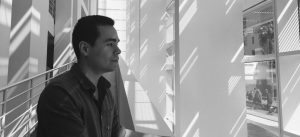 Paolo Griffin is a Peruvian-Canadian composer and arts administrator based in The Hague, The Netherlands.
Paolo's work is largely determined by two channels: the first focuses on experimental sound explorations, variation in established structures, free notation, open scores, and sound installations and performance art. The second channel is the polar opposite: determined pieces concerning rules and numbers, work with form and structure, ratios, tuning, as well as the use of melodies and rhythms informed by his mixed Latin heritage.
He has written works for ensembles and orchestras such as the Residentie Orkest of The Hague, the Hague-based groups Kluster5, the Hoediernal Quartet, and the Oerknal! New Music Collective, the London based La Tache Ensemble, and the Finnish Avanti! Chamber Orchestra as well as Canadian groups New Music Toronto, MusicaIntima, and Reverb Brass. He has attended workshops in Canada, Italy, and Helsinki, and spent a month as artist-in-residence at the Arteles Residency Institute in Northern Finland in 2013.
In addition to composition, Paolo is active as a performer, writer, and artistic producer/director. He has worked as writer and Editor-in-Chief for a number of projects including the Hans Abrahamsen Festival at the Royal Conservatoire of The Hague and the Dag in de Branding music day in The Hague. He has worked as artistic director and writer of his own organization, New Music Toronto, and has also worked as a co-producer with the Hague-based organizations Dag in de Branding and Ensemble Klang as well as producer and director of the two-day festival and concert series on the works of Austrian composer and artist Peter Ablinger. He has been a member of the University of Toronto GamUT New Music Ensemble, is a member of the Royal Conservatoire of The Hague's Trash Ensemble, and is a frequent performer of various new works in and around The Hague.
Paolo holds Bachelor Degrees in Composition from the University of Toronto (James Rolfe, Gary Kulesha) and The Royal Conservatoire of The Hague (Martijn Padding, Peter Adriaansz), and is currently working on his Masters Degree at The Royal Conservatoire of The Hague (Peter Adriaansz, Mayke Nas, expected completion 2018).
© Paolo Griffin 2017