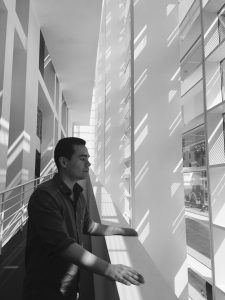 Paolo Griffin is a composer and curator based in Toronto who creates music that concerns contextual ontologies, explorations of lines, shadings, and colours, and the interactions of/between processes and systemic organizations. His practice includes the creation of notated music and text/event scores, exploring the possibilities that result from fleeting moments of intersection and centring performer-composer collaboration.

In 2018, Paolo founded Freesound, a performance collective that includes some of Toronto's top performers. Freesound present concerts throughout the year with an interest in the work of emerging composers.

A fierce advocate of accessible arts and inclusive practices, Paolo is also the Managing Director of Xenia Concerts, a Toronto-based charity that focuses on presenting accessible concerts and musical events for autism and neurodiverse communities.

Paolo holds degrees from the University of Toronto and the Royal Conservatoire of the Hague where he studied with Peter Adriaansz, Martijn Padding, and Gary Kulesha. Other teachers have included Rodney Sharman, Linda Catlin Smith, Anthony Tan, Juhani Nuorvala, Chaya Czernowin, Mayke Nas, Matthew Whittall, Jukka Tiensuu, Nobert Palej, Huba de Graaff, Jan van de Putte, Ana Sokolovic, Peter Ablinger, Christopher Theofanidis, Mario Garuti, Dmitri Tomozco, Amy Beth Kirsten, and Chen Yi.

Paolo's sits on the board of Musicworks Magazine. His work and research are supported by the Canada Council for the Arts, the Ontario Arts Council, and the Canadian New Music Network.