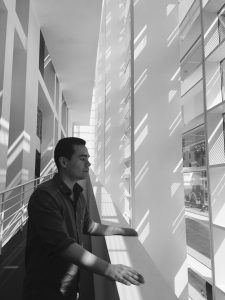 Paolo Griffin is a composer and curator based in Toronto/Tkarón:to whose work explores ongoing research about the sounding and perception of microtonal rational intonation (Just Intonation) and alternate tuning systems. The music he creates explores the melody as a generative process, the creation of colour/shading/densities in sound, and non-hierarchical forms of action/interactions in procedural and systemic organizations.

His practice spans sound, performance, text, and improvisation and includes the creation of notated music and text/event scores, exploring possibilities that result from fleeting moments of intersection and centring performer-composer collaboration.

In 2018, Paolo founded Freesound in Toronto, a contemporary music performance collective that emphasizes collaboration and experimentation. As a curator with Freesound, Paolo organizes concerts and events and collaborate with artists from different artistic disciplines around Canada.

Paolo is also an advocate of accessible arts and disability inclusive practices. He work as the Managing Director of Xenia Concerts, a charity that focuses on presenting accessible concerts and musical events for neurodiverse and disability communities.

Paolo's sits on the board of Musicworks Magazine. His work and research are supported by the Canada Council for the Arts, the Ontario Arts Council, and the Canadian New Music Network.